Is Your Vacation Rental Web Presence Inspired?
85% use mobile devices to book online travel activities. Do you have a mobile-responsive vacation rental website? 
If you're wondering how travelers get their inspiration to take a trip, a recent Opera Mediaworks survey of U.S. travelers provides the answer. The survey reveals that 85 percent of respondents use mobile devices to book travel activities.
Though some vacation rental industry leaders cling to the mistaken assumption that the customer journey for guests may begin on mobile and end elsewhere, the survey indicates that travelers are not just window shopping on mobile, but actually following through with bookings on mobile devices, as well.
What Google Reveals about Booking Behaviors
When travelers use their mobile devices, where are they actually looking? The Tnooz article Google Goes Deep on Mobile Search and Booking Behavior lists the top four places people perform their travel searches as:
Search engines
Price comparison websites
Provider websites
Online videos
What do these findings tell you about your vacation rental marketing strategy? Simply put, they highlight the need for a robust channel management solution and a stellar vacation rental website design.
Considering each of the four top ways in which travelers find your property listings, the question arises:
How can you inspire mobile users with your property listing so it stands out, gets the click, and then converts?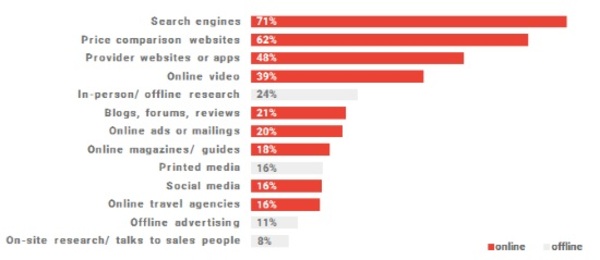 Courtesy: Tnooz
How to Make Search Engines Love Your Vacation Rental Listings
Since 71 percent of mobile users start their search for properties via search engines, it is clear that your page ranking on search engines is important.
Are you doing everything you can to improve your local ranking? Does your website appear when a traveler uses Google to find properties in your area?
Our recent blog about improving local SEO results provides a wealth of information about local SEO. Here are a few quick tips from the article:
Ensure all information on your site is correct.
Verify your location.
Verify your hours of operation.
Manage and respond to all reviews.
Your website design figures prominently in how well it ranks with search engines. Kigo's responsive website designs are optimized for conversion and display beautifully on mobile devices.
Managing Listings on Price Comparison Websites
Price comparison websites are used by 62 percent of travelers looking for booking information.
How can you best leverage listing partners like Airbnb, HomeAway, and Booking.com?
Kigo's channel manager enables you to participate as a partner portal in our advertising network of more than 35 portals like HomeAway/VRBO, TripAdvisor Vacation Rentals, Roomorama, Booking.com, and others. Easily manage all your listings with each partner with just a few simple clicks.
The Kigo blog is a rich resource for tips and tricks regarding how to optimize your listings on partner portals so that your properties can appear first when travelers are browsing the sites.
Make your vacation rental listings even better with these related articles:
Provider websites are viewed by 48 percent of mobile users looking to book travel accommodations.
This is another area where Kigo offers excellent options for vacation rental property management companies. Rather than a static billboard of your property listings, Kigo websites are designed to drive bookings.
"Good" Vacation Rental Website Package - DIY, Template-Based Solution
Kigo websites are also designed to fit any budget. Our "Good" web design package includes a fantastic website featuring a high-resolution slideshow, social media links, theme modification, search and booking menus along with full integration with the Kigo system. All of this comes with the reassurance of having the expert Kigo Digital Marketing team on hand to assist at any time.
"Better" Vacation Rental Website Package - Choose from 100+ themes
For those who want more, our "Better" website package includes mobile responsive, feature-rich designs, property search filters, and Kigo's booking engine integration. This is the perfect option for those looking for a quick, professional and affordable way to present their business and start taking bookings within days.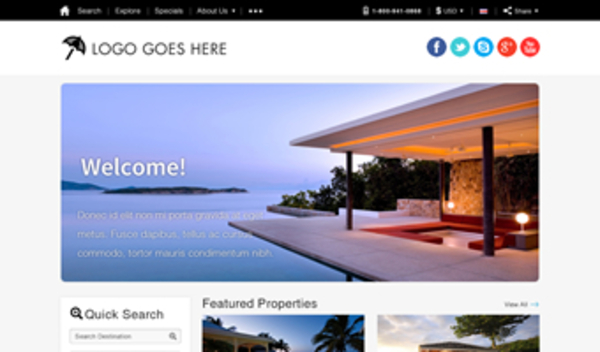 Kigo's beautifully designed websites drive bookings.
The Best Vacation Rental Websites for Property Management Companies
Kigo "Best" vacation rental websites are tailored for your vacation rental business, designed to generate reservations and integrate with our powerful Kigo software. Kigo will prepare and create your website, working closely with you to turn your design and ideas into a beautiful and effective finished product, unique to your business.
Using Online Videos to Drive Vacation Rental Bookings
The Google survey also reveals that 39 percent of mobile users view online videos when making travel plans.
YouTube has proven to be an effective marketing platform for vacation rental marketing. It provides an excellent tool for connecting with clients, widening your visibility, and increasing lead generation.
Our blog "Vacation Rental Marketing: How to Use YouTube" gives this great YouTube advice: "A simple video tour of the properties you offer, or a slideshow of local attractions, is enough to pique interest in your listings and encourage people to act. End each video with a call to action that prompts readers to visit your website, call your office, or make a reservation."
Ready to Inspire Guests and Boost Bookings with the Best Vacation Rental Marketing Tools Available?
Savvy vacation rental property managers use all available methods to attract travelers to their property listings. Are you doing that?
Schedule a free demo of Kigo's vacation rental solution today and see for yourself the boost that Kigo brings to your bookings.