4 Vacation Rental Website Mistakes to Avoid
Positive images like smiling people and inspirational design elements have the biggest impact on travelers' first impressions of a travel or tourism website, according to the Journal of Travel Research.
Vacation rental website design can make a great first impression or drive prospective guests away.
Are you making any of these mistakes on your website?
1) Low Quality Images
Travelers compare vacation rental properties visually. You can write the most compelling listing in the world and still fall short of capturing a traveler's attention if the images are low-quality. As we've stated on our blog, eye-catching images are essential to your website design.
What images should you include? Determine what makes your property special and add photos of those areas. Instead of trying to capture every feature in only a few photos, give guests a range of photos to peruse. The longer they stay on your site, the more likely they will be to book with you.
It is not simply the resolution of your images that make them "high-quality"- the subject matter is also key.
2) Bad Booking Experience
VRMIntel emphasizes the need to optimize your booking experience, which is integral to the overall impression your vacation rental website makes. The article states: "Your website is your storefront. There is?NO point in having all the great photography, content, ambiance, and offerings with a broken cash register at the end of the?experience."
Booking on your site should be seamless. There should be absolutely no friction when your potential guests get to that all-important moment of reserving one of your properties.
3) The Absence of Reviews
Potential guests looking at your properties online want to read guest reviews. In the digital age, online reviews are the equivalent of word of mouth advertising, the most valuable advertising your business can have. Displaying social proof on your website in the form of guest reviews will help drive bookings in a big way.
4) Not Mobile Friendly
An increasing number of travelers are both researching and booking properties via mobile devices. If your website displays poorly on a mobile device, you may as well not have a website at all. It's that important.
Are You Ready to Drive More Bookings with Kigo's Website Templates?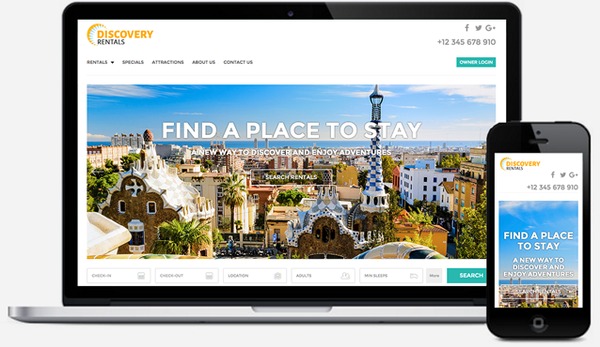 Kigo's website design templates drive bookings.
With a variety of different website packages to meet any budget, Kigo offers professional vacation rental websites that inform guests, drive bookings and integrate seamlessly with your account.
Kigo vacation rental website templates are specifically designed for the vacation rental industry. They are mobile-responsive, high-converting tools that drive bookings and keep guests delighted and engaged with your properties year after year. Want to know more? Simply schedule your no-obligation, web-based demo at your convenience.