Peter Drucker, Growth, and Vacation Rental Management
"The business enterprise has two - and only two - basic functions: marketing and innovation. Marketing and innovation produce results; all the rest are costs." Peter Drucker
Peter Drucker and Vacation Rental Management
Peter Drucker was arguably one of the most widely influential thinkers and writers on the subject of business management and growth ever. How do his words of wisdom about business growth apply to vacation rental management?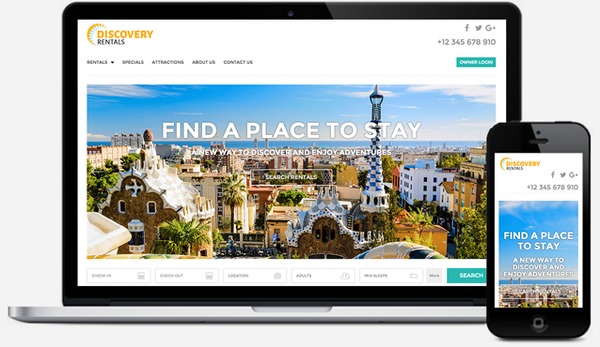 How Vacation Rental Software Spurs Innovation
The vacation rental industry has seen amazing growth and innovation in general, and property management companies need to keep up. Skift's "Why Distribution Matters in the Changing Vacation Rental Sector" notes:
"Vacation rental owners and managers once relied on classifieds or catalogs to get on guests' radar, slowly shifting to listings sites like VRBO. 'The emergence of companies like HomeAway filled a niche in the market, where hotels had dominated online exposure,' recalls Jeremy Grogg of Kees Vacation Rentals. There was no central place where you could look for a vacation rental product - it wasn't on Expedia."
Changes in cost structure are only part of the challenge. The new emphasis on online booking creates connectivity and administration challenges for property managers, giving rise to a thriving market in technology and distribution management solutions that help managers keep their listings up-to-date across the newly available channels. The simple truth is: if you are not using innovative channel management software, then you might as well be advertising in the Yellow Pages™.
Channel management software easily updates and syncs your property's availability and pricing on multiple websites all from one place. Kigo is the leading Channel Manager, with more portal partners than other vacation rental software providers. Take a look at the ever-widening sea of online listing portals such as AirBnB, Homeaway, and Booking.com supported by Kigo Channel Manager.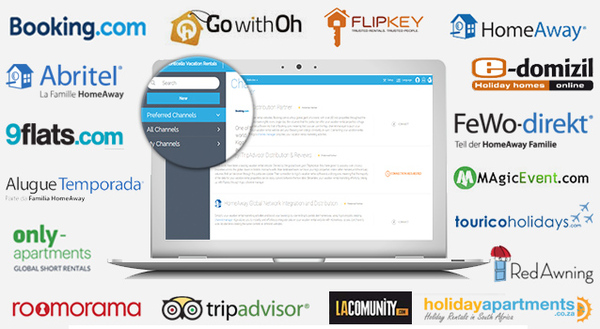 Kigo provides multiple portal partners from which to choose.
Vacation Rental Marketing Tools for the Property Manager
Consider, for example, your vacation rental website. Your website is one of the most fundamental and powerful marketing tools you have. Kigo provides beautiful and high-performing vacation rental websites that fully integrate with its powerful vacation rental booking and management software.
Additionally, Kigo has website design options to fit every budget, from its "good" package which includes a responsive website template and online booking capability to its "best" website package, which is a premium, custom website built specifically for your properties and business needs.
Another way in which Kigo supports your marketing efforts is through the Kigo Reservation Call Center. Kigo Contact Center is more than just an answering service. Kigo's professionally-trained reservation specialists help you convert more leads into bookings. To see how the call center can increase your bookings, you can simply contact your rep to get your first 30 days of Kigo Contact Center at no cost.
Kigo can support your marketing efforts in yet another way. An often-overlooked aspect of the marketing mix is pricing. Kigo's Revenue Management Software takes the principles of hotel revenue management and uses powerful analytical software to set the optimum rates for maximum occupancy and increased overall revenue.
How Kigo Helps You to Control Costs
In addition to helping you with marketing tools and innovative channel management technology, Kigo also helps you keep a lid on costs. In a recent interview, VP of Products for Kigo Matt Willis said:
"What we strive to do is uncover the operational expenses that the operational teams are incurring. That might be stock or inventory expenses used on the owner's behalf, or that might be the general cost of a particular cleaner for a particular unit."

"For example, a large five-bedroom house might cost the PMC $150 for a cleaner, whereas a small unit might be only $60. So we need to allow them to set those metrics up so that they can report back at the end of the month how their performance is and if they are actually profitable.

The goal here is to get faster feedback on those expenses so you're not waiting for this report 30 days after the fact. We can anticipate or audit our cleaning invoices. A cleaning company might send $2,800 invoice, but according to our records those claims may not balance. So this can eliminate mistakes on the billing side for these cleaning companies, saving you money."
Kigo - The All-In-One Solution for True Business Growth
The reality for vacation rental property management companies today is that true growth can only be achieved through strong marketing, continual innovation, and cost-saving measures. When innovation meets cost-savings at the intersection of marketing automation, you have Kigo vacation rental management software. Try Kigo vacation rental management software for free today.