Booking.com Extranet – 3 Tricks for Vacation Rental Bookings
Vacation rental management companies are always on the lookout for ways to increase bookings and drive revenue.
Booking.com provides many management companies a way to extend their marketing reach to a truly global audience.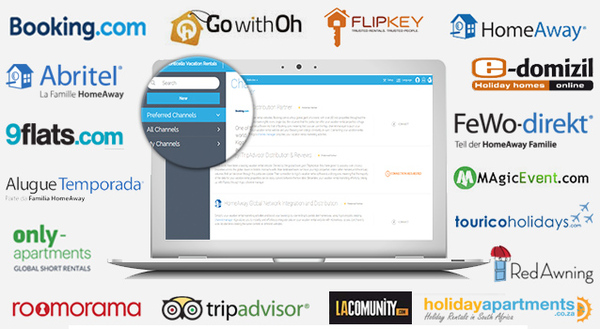 Booking.com is one of Kigo's many portal partners.
Skift notes that one of the strengths of Booking.com lies in its ability to prompt instant digital conversions. Visitors to the Booking.com site are encouraged in a variety of ways to book your properties right away. As one of Kigo's valued portal partners, Booking.com does a great job at showcasing your properties to a larger audience and increasing your bookings.
Booking.com provides an extranet by which property managers can access and manage their properties on the site. While there is nothing wrong with the Booking.com extranet, Kigo makes the process even easier with Kigo Channel Manager, which enables you to update and distribute your property listings to more than 35 portal partners including Booking.com, without having to log in to the Booking.com extranet to do so.
1. Connect to Booking.com Extranet Once and Done!
Kigo makes it easy to connect with the Booking.com extranet. Because Kigo works for you, the property manager, and not for the listing portal, Kigo tries to make everything as easy as possible for you. With these simple steps, you are ready to go:
Create a Booking.com account, or log into your already existing account. Then simply request a secure connection from Kigo to the Booking.com extranet.
Once your request is made, Kigo's support team goes to work to link your property in Booking.com with your Kigo account. If your request is made on Monday through Thursday, this process usually takes just one day.
Using Kigo, you can specify your properties and pricing and rate categories with Booking.com.
Once you have completed these steps, submit your setup for review by the Kigo support team.
After the team reviews your setup and gives it a thumbs-up, simply confirm the connection on the Booking.com extranet and you are all set!
2. Extend Listing Distribution beyond Booking.com
As mentioned in an earlier blog post, Kigo's cutting edge channel management software enables you to seamlessly manage a channel partnership with Booking.com and many other booking portals as well. Considering the reach that can be achieved for your vacation rental properties with a robust channel management solution, it is wise to consider how your vacation rental management company would benefit from such a partnership.
While every portal is different, Kigo supports a similar set up process for each of your portal partners. Once Kigo's support team works with you to set your properties up with the other portals you choose, it is even easier to update, manage and distribute your property listings. Then, you will:
get more bookings
make more money both for your property management company and for property owners
attract a global audience with large portal partners, and a geographically specific target audience with smaller portal partners

See the Kigo Channel Manager in action.
3. Use Kigo Vacation Rental and Channel Management Software to the Fullest
In addition to supporting you with the set-up process for the Booking.com extranet and other portal partners, Kigo provides several other ways to help you boost your vacation rental bookings. Here are a few:
Take a Free Test Drive of Kigo
Try Kigo for yourself and see why it's the trusted solution for thousands of vacation rental professionals worldwide.
4. Target Your Perfect Vacation Rental Guest
As mentioned in an earlier article, you can use your channel management software to distribute vacation rental listings to the portals which best match your target market segment or niche. Kigo's channel manager software enables you to market your vacation rental properties to a wide audience with large portal partners such as Airbnb, Booking.com, TripAdvisor.com, and Homeaway, and also allows you to target niche audiences with a great selection of small-medium portal partners.
5. Improve Your Property Listings
Working with multiple channel partners helps you to craft excellent, high-converting property listings. Using the available features on portal partner sites as well as a Kigo-designed website template, you can design your listings for maximum impact with features like interactive maps, high-quality images, and well-phrased copy.
What It Means for Vacation Rental Management Companies
Vacation rental management companies that are looking for ways to ensure sustainable growth need look no further than Kigo's channel management solution. The benefits of being aggressive in distribution are many. Vacation rental managers who choose to add channel partners increase their potential bookings exponentially for each partner added.
To see Kigo's channel management solution at work in real time, start your free trial today and take advantage of all the channel partnerships available to you through Kigo's integrated reservation management system.
---
Read More Related to Booking.com