Roomorama Boosts Vacation Rental Bookings
Kigo's article "Vacation Rental Management Leads in the Age of Airbnb" states: "As direct online marketing continues to become harder due to the sheer volume of vacation rental property listings online, a well-considered strategy for customer acquisition must include leveraging the power of channel distribution."
Kigo's channel manager software makes vacation rental listing distribution through portal partners easy. One such partner is Roomorama, whom the Boston Globe recently reviewed and said was, "Best for: Low- to high-end apartments for working professionals and families."


Roomorama is one of Kigo's many portal partners.
Exploring Roomorama's History
With over 300,000 mid- to high-range properties in over 6,000 locations worldwide, Roomorama caters to a wide spectrum of vacation travelers. NBC New York says about the company: "In many cities like New York, London and Tokyo, a Roomorama flat is often less expensive than a hotel and offers the convenience of full kitchens and other amenities of home."
Inc. Magazine reports that Roomorama "certifies hosts with good records and offers discounts from partners like Crunch gym."
Founded in 2009, Roomorama likes to provide travelers with the experience of living like a local when visiting one of their properties. With rentals ranging from 3 nights to 3 months, Roomorama can accommodate most traveler needs easily.
Roomorama's website reports that property listings offered include everything from a single bedroom to an apartment or rental home. Many travelers find Roomorama's offerings to be exceptional because they often provide much more variety and local flavor than generic hotel rooms and most of Roomorama's properties are professionally managed.
According to Tripping.com, as of 2015, Roomorama reported their average user books a stay for 9 nights or longer and spends more than $1000 per booking, well above the industry average.
If you would like to increase bookings for your properties, Roomorama may be a great channel partner for your vacation rental property management company.
Kigo Makes Channel Management Easy
Whether you are managing property listings on Roomorama or other popular listing portals, Kigo's "What Are the Advantages of Using Channel Management Software?" lists several benefits of automated channel management, such as:
saving money
saving time
reaching more customers
improving reputation
automating tasks
How does Kigo's channel manager work? The article goes on to explain: "Kigo works with you to set up your chosen channel partnerships. Once this is done, you can get more inventory with just the click of a mouse. Your own system will be connected to the Kigo system with an API connection.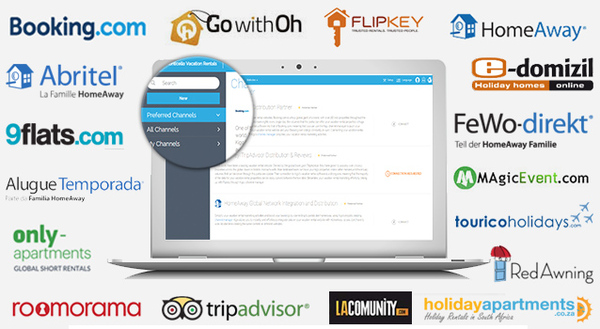 Kigo's channel manager helps you partner with multiple channels of distribution, expanding your marketing reach.
This means you can still use your own system while taking full advantage of Kigo's channel management software. Your property listings reach a much wider audience, and your system is constantly updated across all channels to ensure you know at any moment what is going on with each of your listings across the board.
Kigo's channel manager eliminates the issue of having to perform manual updates of your listings and rates, making it a simple, easy thing to manage all your channels at once, all day, every day."