Vacation Rental Tips to Build Inquiries and Bookings
There are few things as satisfying to a vacation rental property manager as the sight of a fully booked calendar. However, if you see room for improvement, here are some quick tips to help you fill up those vacant weeks on your booking calendar.
1) Getting Your Vacation Rental Website Found
A solid SEO strategy and a responsive design for mobile devices will attract new vacationers to your property website. A responsive design is imperative given both the number of potential guests using smartphones and also Google's mobile-friendly preference for good rankings.
To optimize your website for search engines, first research what people are searching for. The Kigo article "Choosing Your Ultimate SEO KeyWords" says, "The first step is to put yourself in your customers' shoes. If you were looking for accommodation in the area where your business is, what would you type into search engines?"
How do you choose the best keywords? Find the sweet spot between the popularity of searches and the amount of competition for those keyword phrases. For example, for web page meta titles use descriptive phrases with moderate competition for which your website can rank well, such as "pet-friendly vacation home on XYZ beach".
2) Energizing Your Inquiries
Bookings begin with inquiries. So, the first step to increase your bookings is to increase your inquiries. You can do this in a variety of ways, but two of the most important ways are: through your own vacation property rental website and through working with channel partners.
Kigo's beautifully designed website templates are designed to convert.
Elements of Good Website Design
To be truly effective, your vacation rental website should prompt inquiries by containing:
Listings that beg to be read
High quality photos that make viewers long to be in the scene
A good selection of positive guest reviews
Strong calls to action that have an emotional appeal
Built-in booking capability for ease of use
Easy to see contact information
Working with Channel Partners
Working with channel partners like HomeAway and TripAdvisor extends your reach considerably. Using a vacation rental software solution that provides channel management functionality helps you effectively handle all your distribution channels easily. The exposure that your vacation rental properties receive from channel partnerships will increase your inquiries substantially.
3) Converting Your Inquiries into Bookings
While getting inquiries is half the battle, it is the other half which establishes who wins the day. You must convert your inquiries quickly into bookings. How can you do this? Here are some best practices:
Respond immediately: The Harvard Business Review article "The Short Life of Online Sales Leads" reveals that responding to a query within one hour makes it seven times more likely that you will secure a qualified lead. While the article's focus is not specifically on the vacation rental industry, the lesson is clear. Where possible, always respond promptly to inquiries.
Express your message clearly: VRMB's "Converting More Inquiries into Bookings" notes that you can send your bookings into hyper-drive by providing guests with the right amount of information at the right time. Striking a balance between being thorough and being overzealous will help you evaluate what information to share at each guest touch point.
Include additional hooks: While the initial inquiry comes as a result of some interest on the part of your potential guest, it is your job to ramp up interest by keeping the conversation going. You might mention special offers, amenities that you think would resonate with your guest, and any additional information you think will close the deal.
Take advantage of your moment to shine: Encourage booking by displaying your expertise. Conveying information about local attractions in your area, restaurants, nightlife, special events coming your way, and other details will prompt your potential guest to act quickly to secure accommodations with you.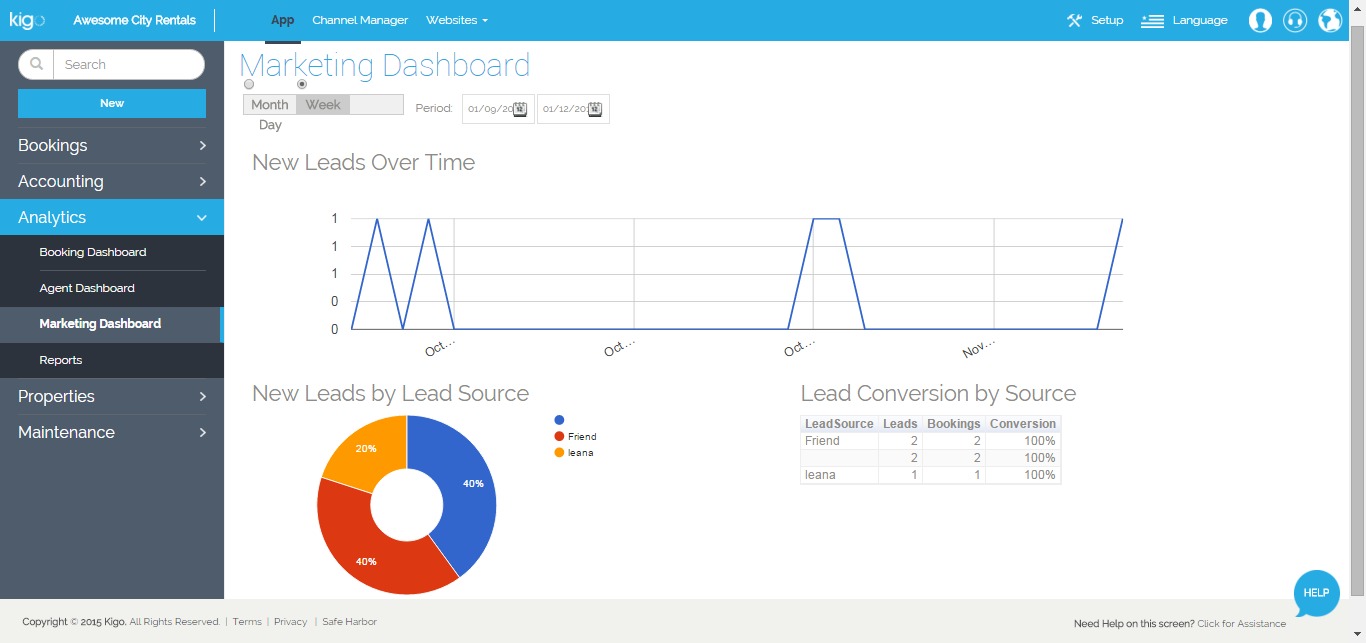 Kigo's Marketing Dashboard helps you manage your marketing campaigns more effectively.
How Vacation Rental Management Software Can Help
Effective vacation rental marketing requires skill and effort, but leveraging available technologies will also help you convert more inquiries into bookings. For starters, Kigo's online reservation software is a powerful vacation rental software solution that provides features such as:
A robust online booking system so visitors can book a rental online immediately
A comprehensive channel manager to distribute property listing across the web
A mobile-friendly website designed to convert visitors to customers
Automated response capability for rapid response to inquiries
To see this complete vacation rental management system at work, request a demo today and get the support you need to make the most of your vacation rental marketing efforts.