Why You Should NOT Use Vacation Rental Software
Every business is unique, and not every vacation rental property manager needs to utilize all the features offered by vacation rental software. You may question if it's worth the cost or meets the specific needs of your business. The truth is, such software holds tremendous potential for your property management company, and with Kigo, you can select the products that are right fit for your business.
As the founder and former CEO of Kigo said in VRMB's "Inside the Mind of a Vacation Rental Software CEO":
"A vacation rental software's biggest advantage is that it centralizes your property management, regardless of the number of places you promote your properties. If you are only promoting your property on one website, and you do not want to increase your exposure, then you can automate your process, but you won't benefit from Kigo's channel manager."
If you are not currently in a position to benefit from features like Kigo's channel manager, that is perfectly fine. Using all the other features of Kigo's software to automate your processes will help you to grow more quickly and enjoy success in the vacation rental business. Then, as you continue to grow, you can use Kigo's channel manager to increase bookings and exposure. Luckily, Kigo's flexible pricing options mean you only pay for what you need.
You may be asking yourself if process automation is really worth investment in vacation rental management software. VRMB's "The Property Manager's Guide to the Galaxy, Part One: Effective Process Management" lists the following benefits of having strong process management in place:
It saves time
It improves guest experiences
It increases employee job satisfaction
It simplifies decisions
The article goes on to note:
"If you plan on being in business for more than the next few weeks, it definitely makes sense to start investing in your future and the company's bottom line by starting to build best-in-class processes and executing them as a brand."
Vacation Rental Reservation System-Not Just Another Pretty Calendar
Another quote from Shawn Convery in "Inside the Mind of a Vacation Rental Software CEO" states: "I don't think many vacation rental managers realize the full potential of what vacation rental software can do. Take reservation systems for example; they are not simply about availability calendars."
Kigo's reservation system does help you manage your availability calendars, but it also does so much more. It includes vacation rental accounting software that enables you to track income and expenses, access booking statistics quickly and easily, generate guest invoices and owner statements, automate email communication with guests and owners, maintain guest databases, and much more. Even a small vacation rental management company can benefit from these valuable features.

Kigo's booking dashboard makes managing your bookings easy.
Online Rent Payment Signals Trust, Saves Time
Not to be overlooked is Kigo's online payment feature. Regarding vacation rental payments, AARP warns its members to "never pay upfront for a rental with a wire transfer or prepaid debit card, the preferred methods for scammers. A credit card or PayPal are your safest options. If something goes wrong, you'll have recourse."
Once again, Kigo's software has you covered. Kigo has partnered with more than seven online payment gateways to allow you to offer direct booking through your vacation rental website. Whether you are looking to accept credit cards or PayPal payments or you want to integrate with our other gateway partners, Kigo has the right solution for you.
Dynamic Pricing Maximizes Both Occupancy Rates and Revenue
Dynamic pricing is another Kigo feature that many vacation rental managers use to advantage. If you charge the exact same rate to every guest during every season, then you probably do not need the Kigo dynamic pricing tool. However, consider this. If you price your vacation rental properties too high, you will lose bookings. Price your vacation rental properties too low, and you lose profit.
Vacation rental property managers know that hotels and airlines use revenue management software to increase occupancy rates and billings, but do not think they can implement it themselves. But as Kigo's "Fundamentals of Revenue Management Software for Vacation Rentals" notes: "The truth is, a basic understanding of revenue management fundamentals combined with easy-to-use software that integrates with your property management system is all it takes to achieve the highest possible rates for your properties."
Another Kigo blog points out:
"By eliminating the hours of market research required to set prices correctly and the additional hours it takes to manually adjust your pricing across all channel markets, Kigo's revenue management software streamlines the process of pricing your properties for maximum impact."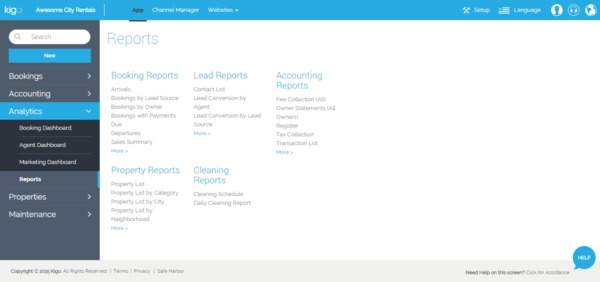 Kigo's robust reporting features help you stay organized and on top of all the details of your vacation rental property management business.
The Truth About Vacation Rental Software
The simple truth is that every vacation rental property management company can benefit from at least some of the features of Kigo's software solution. With benefits like a robust reservation system, online payment processing capability, and revenue management, Kigo's system is designed to accommodate your current needs and continue to grow with your company.
Are you ready to see what vacation rental software can do for you?
There is much to love about Kigo's features, including benefits such as:
managing all your reservations in one system
an easy way to process online payments
revenue-optimizing dynamic pricing
Request a demo today and start exploring all Kigo can do for you.