How VRBO Fits in the HomeAway Family
One of the first online vacation rental companies, in 2006 VRBO became a part of the HomeAway family.  VRBO adds something of value to the million listings in 190 countries globally on HomeAway: a more family-focused type of rental unit.
"A majority of the VRBO inventory consists of entire homes and apartments. Most VRBO rentals have a backyard, and an average VRBO rental is about 1,850 square feet. Due to the typical space a VRBO vacation home provides, this company is ideal for travelers looking for the kid-friendly vacations and or pet-friendly rentals." Tripping.com 
How can you get more bookings with VRBO?
---
Share this article with a friend
Facebook  |  Twitter  |  Google+  |  LinkedIn  |  Pinterest

VRBO is a unique part of the HomeAway family.
VRBO, HomeAway and Expedia Combine Forces
In early 2016, Expedia acquired the entire HomeAway family of companies for $3.9 billion in cash and stocks. Expedia immediately went to work to honor its promise to shareholders that revenues would increase, implementing a new pricing structure that made VRBO owners fear a drop in the number of bookings made through the site.
Fortunately, Expedia listened to owner concerns and recently changed from the wildly unpopular multi-tiered subscription plan to a flat annual subscription rate of $349 for subscribers with online booking enabled and $499 for subscriptions without online booking enabled.
Additionally, owners will no longer be charged for "featured" bookings. Instead, the company will use an algorithm to show various properties to searchers, a move which owners deem as being more impartial and fair.
Mergers, Mergers, Everywhere
These changes are indicative of a larger sea change in the vacation rental industry. One merger behind another is occurring, leading to rapid consolidation in the vacation rental listing website marketplace. This is great news for the vacation rental industry, according to some industry observers. Mike Janes, the chief marketing officer for a San Francisco-based resort-residence rental company, told WhereTraveler:
"Vacation rentals are a big business already. ... With big players like Expedia getting in the game, there's no reason to think that growth won't continue."
What It All Means for Vacation Rental Management Companies
What does this all mean for vacation rental managers? As listing sites continue to shift and change, vacation rental management companies need a way to handle their listings across multiple listings sites now more than ever before.
Kigo's channel management software works across multiple listing sites with ease. With more than 35 portals like HomeAway/VRBO, TripAdvisor Vacation Rentals, Roomorama, Booking.com and others, Kigo channel manager enables you to add inventory with a few simple clicks.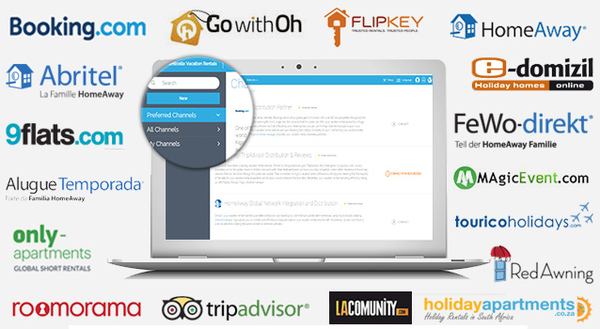 Kigo's channel manager handles these portal partners with ease.
The channel manager integrates fully with your booking software, syncing your booking calendar in real-time to eliminate dreaded double bookings. Listings can be instantly updated across multiple portal partners, making management of all your property listings a pleasure rather than a time-consuming chore.
Channel manager software extends your marketing reach
Through portal partnerships, your vacation rental management company can reach a global audience that you might never tap into on your own. Are you ready to tap into that power for your vacation rental management company?
Learn more by downloading the ebook: What is a Channel Manager? today.
Read other posts related to Channel Management Software.