How to Personalize AND Automate Vacation Rental Marketing
Automated Personalization in Marketing - an Oxymoron?
With online bookings and keyless entry systems that enable guests to bypass the office check-in experience, vacation rental property management companies still need to make a personal connection with guests. On the other hand, time-strapped property managers must find ways to automate processes everywhere possible.
Can you really personalize and automate at the same time?
While the two concepts may seem a bit contradictory, the good news is that you absolutely can automate your processes and provide a personalized experience at the same time. Doing it right involves understanding why personalization matters in the first place and how automation can actually help you personalize your guest communications and experiences.
Your guests are looking for a "me" experience with every interaction.
Why Personalization Matters in Vacation Rental Marketing
In the landmark book "How to Win Friends and Influence People", Dale Carnegie famously notes:
"Remember that a person's name is, to that person, the sweetest and most important sound in any language."
That simple truth cannot be denied. Personalization matters to your vacation rental guests simply because humans are hard-wired to care about themselves. The human brain contains something called the reticular activating system (RAS). The RAS enables humans to focus conscious attention on something that is personally important, while filtering out all the stuff that does not matter. It is the thing that enables you to hone in on the one conversation that interests you in a crowded room of people, or to find that one parking space three rows over from where you are when you are looking for one.
Savvy marketers use personalization to help activate the RAS. In other words, the more personalized the experience, the more likely a vacation rental guest is to appreciate it. Consider, for instance, the results of personalizing email campaigns. Marketingprofs.com reports that personalized emails have a 25 percent higher open rate and a 51 percent higher click rate than non-personalized emails. The same article notes that businesses that use personalized marketing typically see a 19 percent average boost in sales.
Could you use the revenue generated by 19 percent more bookings?
How to Personalize While Automating
On the topic of email automation in the vacation rental business, one of our recent articles notes:
"First, it is essential to realize that email communication for your vacation rental management company must be more than just a generic "Thank you", "Welcome", or "Here's your receipt" message. Rather, the point of your email campaigns must be to nurture a relationship with those on your email list."
One easy way to add personalization to email correspondence comes into play when a potential guest has a specific question about amenities or items in one of your properties. VRMIntel's "Personalizing Reservations and Customer Service" suggests taking a cell phone picture to answer the question. The article advises:
"While it is nice to send and share stylized professional photographs, send cell phone pictures in response to specific questions, especially for homes with higher rents or for guests looking for longer stays."
Obviously, this type of interaction is highly personalized to the specific guest and cannot be automated. But there are plenty of occasions where automation and personalization work very well together.
For instance, you can use guest data from your Kigo reservation system in our provided email templates to give that personal touch to correspondence. Kigo's vacation rental management software solution can help you automate your email process from initial inquiry through the lifetime relationships you build with repeat bookings. With Kigo's email templates, you can instantly respond to inquiries with a personalized message.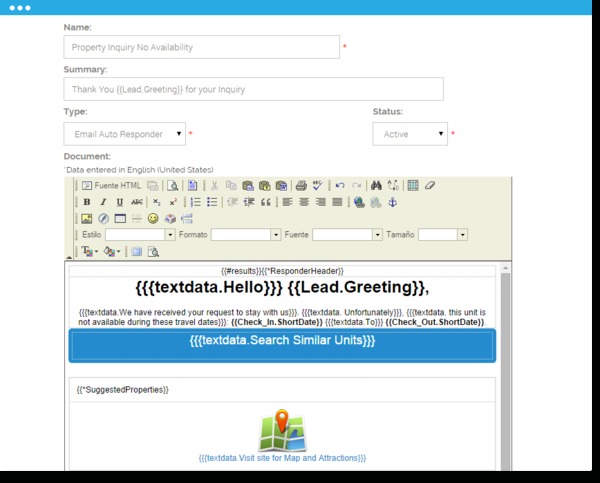 Kigo's email templates provide a way to automate personalization easily.
How Personalization Adds to Your Profits
As a recent Kigo article points out, vacation rental repeat bookings are driven by an excellent guest experience. Once your guests have enjoyed superior service on-site, it is important to continue to build on that momentum by maintaining an open line of communication after their stay. That will increase your repeat bookings, lowering your marketing costs and thereby adding to profits.
The Vacation Rental Management Takeaway
Your vacation rental reservation system can help you personalize marketing for more effectiveness while also automating those processes for more efficiency.
Ready to see the Kigo vacation rental reservation system in action? Simply request an online test drive.