How to Compete with Hotels Using Channel Manager Software
Are vacation rentals displacing hotels?
CNN Money's "Hilton: We're Not Scared of Airbnb" reports that, at $25 billion, Airbnb's valuation is greater than Hilton Worldwide, Hyatt Hotels, and Marriott.
Its growth prompted the CEO of giant hotel company Hilton to assure investors it is not worried about Airbnb's rising popularity:
Hilton CEO Christopher Nassetta said, "I think it's extremely hard for them (AirBnB) to replicate what we're doing." But according to Bloomberg, Goldman Sachs was quoted as saying, "We find it interesting that people 'do a 180' in their preferences once they use P2P lodging."
Who Is Right?
Industry Experts are Weighing In
A recent Vacation Rental Marketing Blog post predicts that by 2020 vacation rentals will topple the hotel industry. Why?
First, an internal study by Seattle Oasis Vacation Rentals revealed that 52 percent of visitors "would NOT have even come to Seattle if vacation rentals were not an option." That means vacation rental listing sites are not only influencing accommodations, but also the vacation destination.
Vacation Rental Guests Try It and Like It!
A study by Goldman Sachs shows that once travelers use peer-to-peer lodging, their preference for traditional hotels is cut in half. See graph below.
Inventory on Airbnb growing faster than Hotels
Finally, as reported in Travel Weekly, "Airbnb accommodations now account for 9 percent of the total lodging units in the 10 largest U.S. markets and appeared to be adding units at a substantially faster clip than the U.S. hotel industry, a new study has revealed."
What It Means for Vacation Rental Management Companies
To be sure, Airbnb, peer-to-peer lodging, hotels and the vacation rental industry itself are all changing at internet speed. Vacation rental managers may wonder what they should focus on - online listing portals, their own websites, social media, etc.
The answer is all of the above. But managing all of your rental listings can be incredibly time-consuming, resulting in posting fewer listings, or concentrating your efforts only on one or two portals.
As the Kigo article "Property Manager's Guide to Vacation Rental Listing Sites" says, "For many VR managers, the use of vacation rental listing sites is essential to marketing success. It is a matter, to some degree, of going where the money is. But do you put all your eggs in one basket?
When asked about their meteoric rise, internet expert Tod Lock said, "Airbnb may be the best known example of a marketing channel actually creating its own supply AND demand. But let's not forget the lessons of the dot bomb days. Remember MySpace? Yeah, neither does anybody else. The point is, own your content and make it portable for whatever portal or social network is popular now, instead of five minutes ago."
Channel management software make the process easy by allowing you to manage all listings in a single location, distribute to the portals you choose, and reduce the time and effort you spend on marketing.
Kigo channel management software:
Is specifically built for vacation rental property managers
Enables you to partner with over 35 portals including Airbnb, TripAdvisor, Roomorama, HomeAway and Booking.com
Amplifies the promotion and distribution of your vacation rental property listings
Reduces repetitive administrative work
Put simply, you put in less and get out more. But best of all, through integration with your property management system, it can also automate payments, invoicing, reservations, cancellations, and financial reporting to greatly reduce your workload.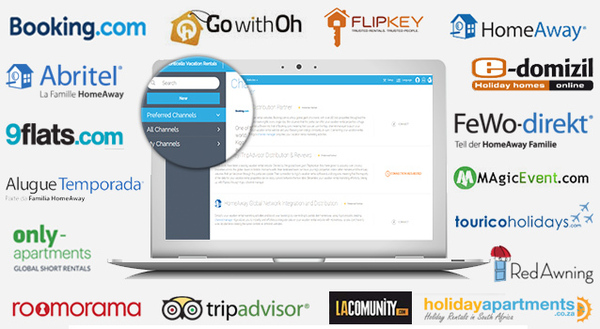 Kigo's Channel Manager enables you to work with multiple channel partners seamlessly.
How Vacation Rental Channel Manager Software Works
How does it all work? Kigo works with you to set up your chosen channel partners. Your property listings reach a much wider audience, and your system is constantly updated to ensure you know what is going on with your listings across all channels.
Kigo's channel manager eliminates the issue of having to perform manual updates of your listings and rates, making it a simple, easy thing to manage all your channels at once, all day, every day.
Learn More About Channel Manager Software
Want to know how to boost your bookings with online distribution of vacation rental listings through channel management software? Schedule your no-obligation web demonstration today.