Avoid VR Double Booking Disasters and Collisions
"You can be sure I'm never coming back, and I'll be telling everyone I know about this!"
These are words you never want to hear from a guest. As a vacation rental property manager, you know their satisfaction must be one of your primary goals if your company is to succeed. One disgruntled guest can cause a mountain of PR problems for your organization, even if the incident that upset the guest is blown out of proportion.
While some situations are out of your control, other problems can be avoided - including the dreaded double booking.

Ensure your guests have no reason to be upset by using good booking technology.
Booking Engine Software Avoids Double Booking Disasters
There are few things worse than the feeling you get in the pit of your stomach when you realize you have accepted a double booking. After all, you want every guest to experience the very best you have to offer. And starting their vacation off with no place to stay is, well, the worst.
Truth be told, though, the possibility of inadvertently double booking one of your units is larger now than ever before. If you are like most vacation rental managers, you list your properties across multiple listing sites. This increases your potential of overbooking, since all the listing sites have their separate availability calendars.
The good news is that you can avert double booking disaster by taking advantage of our reservation management solution and channel manager. While channel manager helps you manage your listings with over 35 portal partners, the reservation management solution also syncs your calendars across all those platforms. No more double bookings!
While it would be rare indeed, if a double booking should slip through the cracks against all odds, what can be done? The Distinguished Guest blog offers this observation: "There are two gifts you must give to your double-booked guests. A sincere apology and a workable solution. If you leave out one of these two, your double booking mistake could turn into a disaster."
Kigo helps with these two items as well. With our sleek dashboard, you can quickly see where you might have other available units to accommodate your guests. And our email templates help you reach out to those guests immediately with a solution to any booking snafu.
Avoiding the "Collision" with Kigo
Then, there is the matter of the potential "collision", that dreaded time when guest departures and arrivals make cleaning an almost impossible task or when an unexpected extended stay results in guests encountering an uninformed cleaning crew. Avoiding such situations is key to providing an optimal experience for your guests.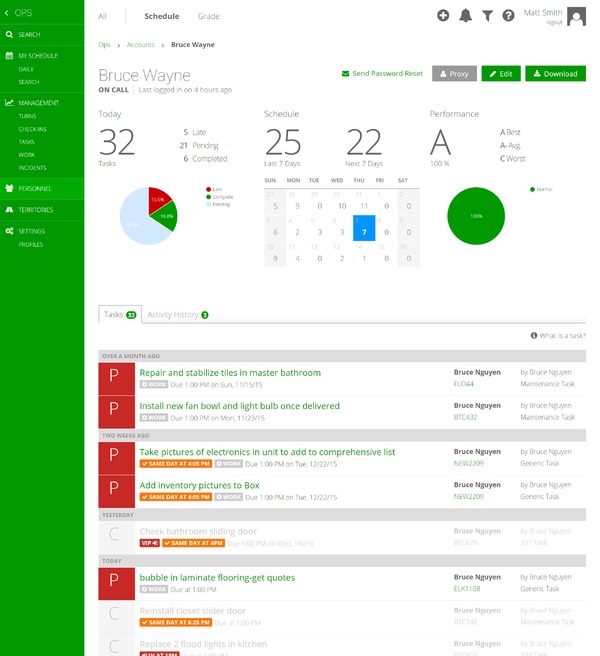 Kigo's dashboard prevents collisions
The KigoPro Ops dashboard gives you a clear global view of all your rental properties and what is happening in each. From that central location, you can avert collisions easily. Matt Willis, VP of Product Management at Kigo, notes:
"This page is really designed to ... be a heads-up. There are many things that go on at your properties, and last-minute changes often take place. We want to make sure that if a last-minute booking is made, we communicate and highlight that on the dashboard so that is not missed."
Want to Avoid Vacation Rental Double Bookings and Collisions?
Save yourself the embarrassment and potential bad publicity associated with double bookings and collisions.
Simply schedule your no-obligation, web-based demo at your convenience.