5 Words to Never Use in Vacation Rental Listings
If you question whether the wording you use in your vacation rental listings matters, consider this:
According to a recent Tnooz article, an analysis of billions of travel transactions by Adobe found that the average look-to-book conversion rate for hospitality and travel-related products was 2.4 percent.
That means that a whopping 97.6 percent of those who look at listings do not end up actually booking those properties!
Improving your listings is an excellent way to ramp up your vacation rental bookings.

Word Choice in Vacation Rental Listings
The way a listing is written can make or break a booking opportunity. VRMintel's "14 Words to Never Include in Your Vacation Rental Listing" shares words to avoid when crafting your listings. Some no-no's from the list are:
1) Never: Phrases like "a vacation you'll never forget" carry a more negative connotation than saying something like "a vacation to remember." As a general rule, it is best to leave "never" out of your listing entirely.
2) Don't: Telling potential guests what not to do is bad form. At best, it is vaguely off-putting. At worst, it comes off as a lecture.
3) Everything: Claiming that your property has "everything" a guest could hope for is a stretch. Even the most well-equipped rental property will likely be missing something that a guest could imagine. Avoid making exaggerated claims. It is better to under-promise and over-deliver.
4) Sorry: Prefacing a house rule with the word "sorry" indicates that you are apologizing for what may be a perfectly legitimate house rule. For instance, "sorry, no pets allowed" indicates to your guests that you feel uncomfortable with a no-pets policy. A better choice would be "Please leave your pets at home."
5) Great: While there is nothing inherently wrong with describing something as "great", in reality that description is not particularly useful. Remember that you have a very limited time to convey as much useful information as possible in your listing. Tightly targeted descriptive words work better than general ones.
Other Things to Avoid with Vacation Rental Listings
GuestHook's "Vacation Rental Listing Description: What to Leave OUT" discusses a few more items that may be stopping potential guests from booking your properties. They are:
vague, feel-good copy that does not actually provide a concrete description of your property
copy that focuses on local attractions instead of the characteristics of your property (While local attractions should be mentioned, they are not the focus of a listing.)
discounts offered (These can be addressed easily in the pricing areas instead.)
Vacation Rental Marketing Tips for Listings Done Right
So, what words should you use to describe your properties and make your listings rise above the crowd on listing sites? The article "Vacation Rental Website Tips: How to Improve Conversion Rates" suggests the three following words because of their hypnotic nature:
These words, and others like them, can help potential guests picture themselves in your properties. The experience becomes personal and immediate. Creating an emotional response and a sense of urgency moves potential guests to follow through and book your properties.
Making the Most of Your Vacation Rental Property Listings
Creating great property listings on your own website is an essential step toward vacation rental marketing success. But by no means is it the only one. To broaden your marketing reach further, your property listings should be displayed via other distribution channels.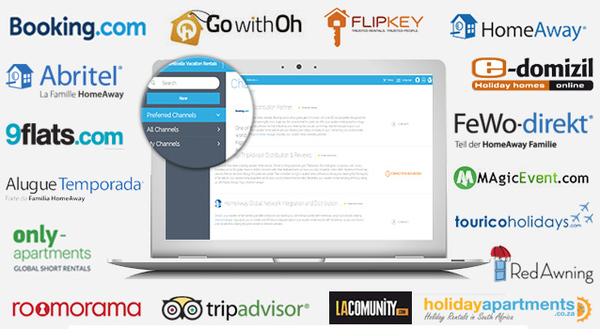 Kigo's channel manager makes listing with portal partners easy.
Managing listing partners like AirBnb, HomeAway, and FlipKey is just a couple of clicks away with Kigo's channel manager. Request a demo today to see what Kigo can do for your vacation rental property management company.